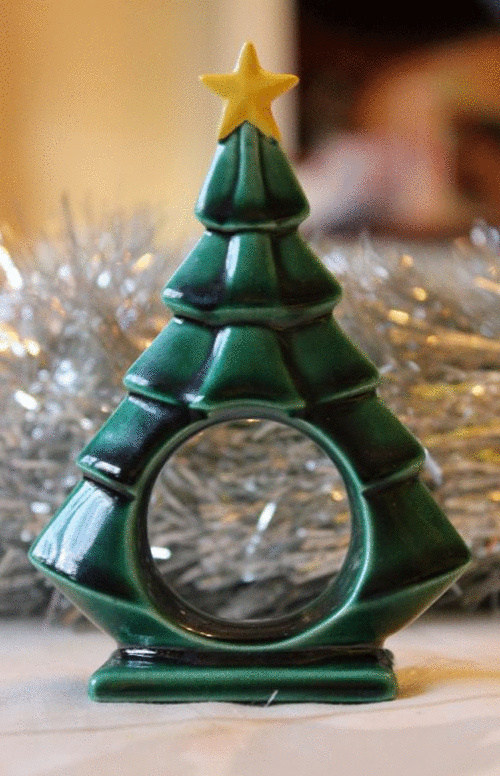 Not a confident crafter? Don't own a glue gun? Or simply running out of time but still have the itch? I was kinda pleased with this idea I came up with: Take vintage Christmas tree napkin rings and turn them into little dioramas that can be displayed on their own or as part of larger groupings.
How to make DIY napkin ring dioramas — super easy:
Find your napkin ring holders –These seem to be widely available, in a number of styles and colors, relatively inexpensively on ebay. Or, watch for them at estate sales or thrift stores.
Glue on a background — I found a piece of vintage Christmas box that I had in my stash, cut it to size (turn it to the wrong side and trace the napkin ring in pencil onto the back, then cut to size a bit bigger.) Glue onto the back – a simple glue like Elmer's should work fine as long as you give it time to harden. Also, a glue stick should work. For this background piece you also could use old Christmas cards, Christmas paper glue-sticked to a more solid substrate, e.g. cereal box … or, what else? Wanna be fancy? Make sure the back of the piece is pretty too — paint or paper it, etc.
Add your weebit(s) — The final touch is to add your weebit inside the arch. I find these weebits all the time, too, very inexpensively. I am particularly fond of ones missing an arm or a leg or other appendage — my heart pitter patters at saving these Land of Lost Toys figures and transforming them into art. To adhere these, I would likely use my high-heat glue gun — but I think Elmer's or a glue stick would probably work fine if you took your time to ensure the piece dried straight etc.
Optional: Bling it up some more — I kept this one relatively simple, but you could also glitter up the base with glitter or silver or gold or other-color metallic pipe cleaners… really, the sky's your imagination's limit.
Optonal: Display on its own or use as element in other, larger projects — The napkin rings are relatively small — you could also put this diorama right into other arrangements, including a vintage ornament wreath.
A good group crafting idea to plan for next season, you think?